If you book with Homair Vacances, you can pay your instalment(s) through the website (via your customer profile) or by telephone.
To pay via your customer account:
Sign in to your Homair customer space with your username and password.
→ If needed, please see the article "How do I sign in to my customer space?".
Once signed in to your customer space, click on "My orders".
Then on "Your instalments".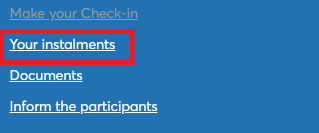 4. And finally on "Pay by credit card".

If you have a customer account, but you've forgotten your password:
On the login page of your customer area, in the section "Already have a customer account", you should click on "Forgotten password". You will need to enter your email address and then click on "Send". You will receive an email in your inbox with the subject line "Password reset request". In the body of the email, you must click on the link "Reset my password".
To keep your data safe and protected, the password must be a minimum of eight characters long and contain at least one uppercase letter, one lowercase letter and one digit.
To pay by telephone:
You should contact our advisers on +33 (0)4 84 39 08 60.
You will then be asked for your booking number (or, failing that, your customer number).
Once the amount to be paid has been checked, you can proceed to payment of the instalment.
You will see the debit appear in your bank statement in the next few days.