Most of our mobile homes are not equipped with a television.
Only specific types of accommodation are equipped with televisions.
In this case, the mobile homes will look as follows: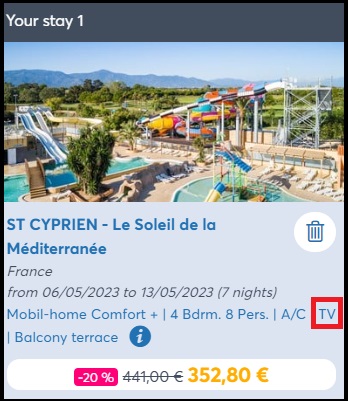 Some campsites offer several mobile homes with TVs, for example:
Les Menhirs - Carnac (Brittany)

La Rive - Biscarrosse (Landes)

Le Domaine des Naïades - Port Grimaud (Côte d'Azur) etc...
To check what equipment is provided in your mobile home, see the campsite's 'Accommodation' section on our website
www.homair.com
.
Some campsites also offer an on-site TV rental service.
For example, the following campsites offer TV rental (per night or per week):
Le Bel Air - Aiguillon sur Mer (Vendée)

Le Signol - Boyardville (Charente Maritime)

Le Boudigau - Labenne (Landes)

La Clairière - La Tremblade (Charente Maritime)
To check whether a campsite offers this service, see the campsite's SERVICES section on our website www.homair.com .